Stereotyping Sports
High school sports are heavily stereotyped and the truth needs to be heard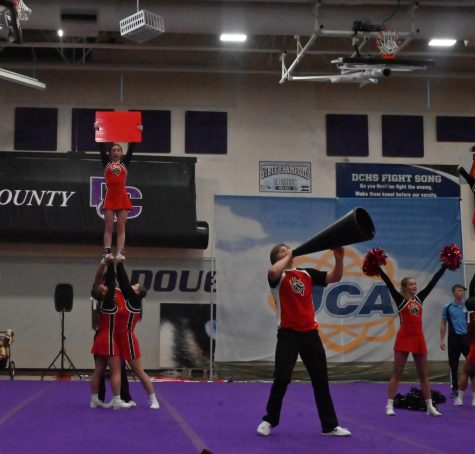 Sports are heavily attended by students. Football games  especially, are very popular and the student sections are always packed. However, there is a big issue in the system of high school sports, stereotypes.  
     Emma Eftekhar, a varsity cheerleader at CV, faces stereotypes in her everyday life. 
     "I've had people come up to me and their first impression of me is that I'm mean because I'm a cheerleader," said Eftekhar. 
     People also assume that cheer is easy, but according to Eftekhar, it is actually an extremely competitive and hard sport.
     "A lot of people don't realize how hard the sport actually is," said Eftekhar. 
     Eftekhar puts twelve or more hours every week into cheer. For comparison, an average school week is about 35 hours, only three times more than the number of hours Eftekhar puts into cheer. 
     According to Eftekhar, cheer is a hard and time-consuming sport, even though most people don't realize it. Eftekhar said that the cheerleaders work just as hard during the school day, getting the best grades they can. 
     "There's a stereotype that cheerleaders are dumb, but actually a lot of people on my team are in NHS and have above a 4.0," said Eftekhar. 
     Eftekhar agrees that most people assume that cheerleaders only cheer for other sports, but in reality they work super hard and compete in multiple competitions per year. Cheering at football games is only a small part of their sport, with competing being the majority of it. 
     "A lot of movies show cheerleaders as just dancers or just on the sideline, but it's actually a super competitive sport," Etekhar said. 
     Last year, the CVHS cheer team won state and placed fifth at nationals. At state, they got a score of 86.5 out of 100 and at nationals they scored 87.8. They worked all year to be able to compete at nationals and represent CV. 
     Sports are a popular thing in high school, but they are heavily stereotyped.  These stereotypes can affect athletes in negative ways. Many people would agree student athletes deserve recognition for the hard work and long hours they put in.
Leave a Comment