Cross-Country Girls' Team Faces Tough Regional Meet
Girls did "exactly what we needed to get done," Coach Lyons said
When the girls' team arrived in Colorado Springs for the regional meet on Thursday, October 20, they knew there was a fight ahead of them. Last year they had placed second at regionals and gone to state. This year they were faster — but so was their competition. This year two of the fastest schools in the state, Air Academy and Valor Christian, had moved into Castle View's region.
__
Castle View arrived early and in numbers to Monument Valley Park. Inside and around the team tent were eighteen runners, two alternates, teammates who had come to support, the coaches, and runners' families (including the Boekes's two golden retrievers, who sported red bandannas for the occasion.) Spectators tossed a football as the girls warmed up.
The Monument Valley Park course was familiar to Castle View runners, who raced it at last year's regional meet and this season's Coronado Cougar Invite. The course is mostly dirt surface, with some hills and a long downhill before the finish. On race day the park was postcard-pretty, with a bright sun shining as golden leaves drifted to the grass, the whole scene in the shadow of Pike's Peak. The day was unseasonably warm.
The girls' gun sounded at 2:00 p.m. From the start Brenna Jorde and Riley Combe held the lead. During the race Neev Lev–a freshman who started the season in open–suddenly felt an intense pain in her leg. At first she tried to keep going, but the pain was too much, forcing her to sit by the course, unable to move, until the coaches could get to her.
Still in the race, Reese Plummer was struggling. She was an experienced runner who had run impressive races this season, even setting a personal best on this same course, but the heat was getting to her and she felt "slow," "heavy." She tried to talk herself through it, telling herself that she was running for her teammate Mari Boekes.
"Mari was the reason that I started to develop my love for running. There were really hard days when you didn't want to show up and work, but she was there, she was making you laugh, and she wanted to work hard and get better, so that inspired everybody else," Plummer said. "She is the team."
The whole season Boekes had been struggling to overcome injury and hadn't been able to perform as she used to. She was a senior. If the girls didn't make state, her high school career would end right there at regionals. Plummer ran to give Boekes "one more chance to run."
As Plummer's flats pounded the rust-colored dirt on the approach to the finish, she saw four runners in front of her. She willed herself to speed up, to pass them, but she was exhausted and hurting and she couldn't. As she struggled towards the finish, the coaches yelled to her that Lev had dropped out, making Plummer a scorer. She thought the coaches were just saying that to motivate her.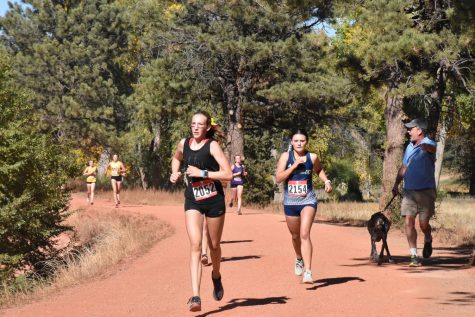 Before the finish, another girl passed Plummer. Then Plummer crossed the line and found out that Lev really had dropped out. In Plummer's mind, she had just given up five places at the regional meet, five places that might have won or lost a place at state. She had failed her team. Failed Boekes. Her eyes filled with tears.
As she stood crying on the grass, Boekes, also crying, came up to her.
"She was super disappointed in the way her race went and I was pretty disappointed in the way my race went too," Boekes said. "I think at that time she needed to hear someone say she was proud of her."
That's what Boekes did. Then she embraced her teammate.
"The hug we gave each other, it said a lot more words than I would have been able to say," Boekes said.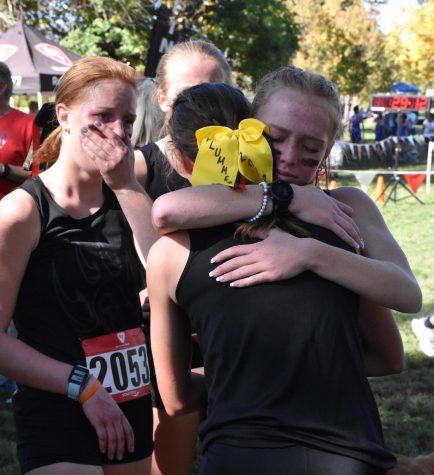 Then, keeping one arm around Plummer, Boekes opened her other arm towards Vivian Mann, Brenna Wendell and Brenna Jorde, who were standing close. The three joined the hug and the five of them held it for a long time.
Speaking in somber tones, the girls' team processed the race. Lev hadn't finished — what had happened to her? And in addition to concern for Lev, the girls felt bitter disappointment.
I had pictured it going better, Brenna Wendell said.
__
When awards came around, the top athletes were announced first. Brenna Jorde (8th) and Riley Combe (14th) won ribbons. Then the team scores. First place: Air Academy. Second place: Valor Christian. Third place: Castle View.
When she heard Castle View, Plummer "screamed [her] head off," overcome with relief that she had not cost the team a shot at state. Now it was official: the girls would be going to state for a second year in a row. Before last year, they hadn't qualified since 2012.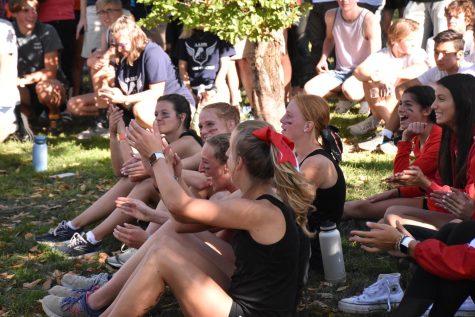 Last year the girls had been ecstatic to make it to state. This year many of the girls went home unsatisfied. They had met so much success — including a new school record and best-ever finishes at the league meet — that the expectations they ran on had shifted.
"We're no longer hoping to make state. State just happens," Coach Lyons said.
In spite of the disappointment, Boekes believes "regionals this year was still a really good day." The girls had faced much tougher competition and they had gotten the job done.
After awards were given, congratulations distributed, and team photos posed, before walking back to the team tent to gather their gear, the girls' team — now a state team — gathered for one more group hug.
Leave a Comment