Thinking Ahead
The football team plays their first game against Doherty Highschool and is looking to improve during the season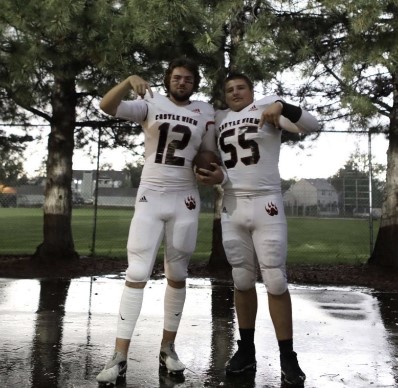 The varsity boy's football team played its first game against Doherty High school on Friday, Aug. 27 at Douglas County stadium. The boys fought in a hard game against the Spartans and pulled out a win. They are looking forward to future games. The game against Doherty had been close for the majority of the game and nerves were present. For Junior Ryder Smith the team played with composure and lots of energy.
     "I wouldn't say that tensions were high but there were nerves for sure. We had a lot of players getting their first starts. It was my first game as a full time captain and first game since my mom had been in the hospital so I was nervous for sure. We got the win at the end of the day, which is all that matters and now we're focused on Poudre," Smith said.
     For senior Nate Schmidt, the team looks solid and is ready to put what he and the team has to offer on the field. The deciding factor for the team will be how well plays are executed. 
     "I think that we look solid all around both offensively and defensively. I think it will come down to winning the line of scrimmage of scrimmage and our execution through all the plays," Schmidt said.
     The boys were super tough mentally and were able to get the win they wanted, even though it may not have been pretty. 
     "Our strengths were how mentally tough we were. We could have given up after going down 12-0 but we didn't. We trusted each other and we might not have gotten the score we wanted but we ended up 1-0 still on the season," Smith said.
      Schmidt explains how the team still looks forward to making the playoffs but has one team in my mind. Douglas County High School, the crosstown rival, is who Schmidt has his mind on.
     "I think that we definitely want to make a run in the playoffs as the season ends but we also want to win the rock back and beat DC. Beat DC," Schmidt said.
      The boys are ready for the rest of the season and look to improve over 1-0. The team has been practicing daily and is ready for the next game.
Leave a Comment