Medals Earned and Lessons Learned
Cross-Country athletes celebrate successes and reflect on disappointments at Arapahoe Warrior Invite
     The Sept. 2 Arapahoe Warrior Invite showed the nature of cross-country: a yin and yang of triumphs and disappointments, where no performance is perfect and no performance is a total failure and every race is but one stride of a runner's journey.
     Sophomore Blake Royer ran a race he was proud of that Friday. His effort began before the race as he warmed up. He kept calm with breathing exercises the coaches had taught him.
     "I was nice and relaxed before the race … usually I get very anxious before every race," Royer said.
     When the gun sounded, Royer tried an untested plan. He always used to "get sucked into the fast start" of races; but at this meet, he conserved his energy, resolving to "pick off as many people in the later miles as I could. It definitely worked," Royer said.
     For much of the race, Royer hung just behind his teammate, sophomore Jenner Davis. 
     "He was that person that you know you can beat, but you've never done it before. He pushed me to be better," Royer said. 
     Propelled forward by his goal of being on the state team, he closed the gap.
     "Once I caught up to Jenner, we ran together for as long as we could and then just tried to kick it in as fast as we could [for] the final mile," Royer said.
     "About 800 meters [left] I started pulling away [from Jenner]," he said. 
     Royer was the sixth runner to cross the line. His time was 18:14, a personal record, which works out to 5:52 per mile.
     "I didn't think I was anywhere close to top ten, so when I crossed the line and they gave me the medal I was so surprised and pretty excited," Royer said.
     Jenner Davis also debuted a new strategy at the meet: a game face. Coach Marshall had told him about a successful runner who kept his face free of emotion during races. As Davis approached the race, he made an effort to budget his emotion.
     "I save all the anxiety for during the race, so I could run with more emotion and more purpose," Davis said. "I tried to show no hurting in my face … save all that energy for my legs."
     Davis and Royer energized each other. Just as Davis had inspired Royer to push himself, Royer motivated Davis to keep up.
     "The competitiveness that we drive in each other is pretty awesome," Davis said. "He caught up to me in the second mile and he pushed me to run with him."
     After getting jolted out of his rhythm by a creek crossing, Davis felt his effort.
     "I could start to feel the burn in my quads and legs, and then I just had to power through," Davis said. 
     He got the strength to do it from his desire to be on the varsity seven and "to show leadership to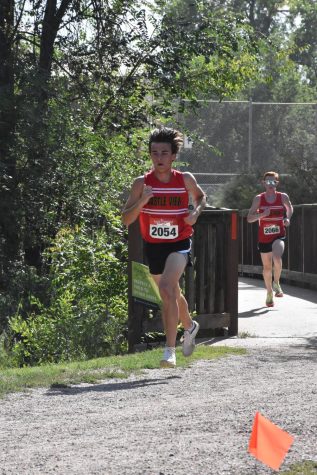 the other JV kids," he said.
     "I was like, okay, I can do this, so [I] picked up the pace, and then Blake started to gap me. I was trying to hold on to him as long as I could, [but he] got away by a few seconds." 
     Davis finished seventh, right after Royer.
     This race was a stride forward in Davis's own journey as a runner. Last year was challenging for him. He was injured multiple times and it "brought a lot of doubt and struggle," he said. He has been getting through it with the help of a psychiatrist. Davis's goal is real confidence—not superficial I-can-do-it talk, but deep belief in his ability.
     "[Coach] Marshall gave us note cards the day before to write our three best workouts and to put them in our shoes, and that was something that brought real confidence to me," Davis said.
     After he finished, he had to prevent himself from thinking too negatively.
     "I think I could have gone even faster, because at first I was mad at my time, and I just knew that I had to flip it off like a switch and go to the positives and reflect on what I could improve," he said.
     To celebrate his top-ten finish, he went to Parry's Pizza with the boys' team, where he annihilated several New York-style slices in rapid succession.
     "The team thought I was eating too fast," he said. "I disagree with that."
     On the girls' side, junior Reese Plummer made the best of circumstances she had never seen before to give a standout performance. She was used to running with the varsity team, but at the Sept. 2 invite, she was placed in JV/open instead, with only one other Castle View girl to accompany her.
     "I know I'm a better runner than [JV], so I had to use this race as an opportunity to prove that to my coaches and to myself and to my teammates," she said.
     The flip side of being placed in JV was that she expected to be one of the fastest girls in the field. This boosted her confidence.
     "I knew I was gonna be in the higher finishes for sure," she said.
     Plummer was used to warming up with her teammates, who would lead the way and take her mind off the upcoming race. At this meet, though, the only other girl from Castle View in her heat wasn't on time for warmups, and her race pace wasn't a match for Plummer's.
     This was "the first time I've had to run alone," Plummer said.
     She described her mindset as a "selfish and solo mentality during the whole warm-up, then race." She had always run with her team, but on Sept. 2, she could depend on no one but herself.
     "The positive side of that is no one can determine the output of this race for me," she said. "No one else can do the work for me."
     The previous week at Wash Park, Plummer had lost herself in a downward spiral of thoughts.
     "Last weekend's race [I thought], 'I don't feel good, I'm slowing down, all my teammates are passing me … I can't do this,'" she said.
     After that race, Plummer worked with Coach Lyons to make the next one better. At the Sept. 2 invite, she talked herself through the race in a new way. Instead of thinking of herself as "I", she talked to herself as "you."
     "A lot of my race was, 'OK Plummer, you look good',  or 'Plummer, I like how you passed that one girl, now we need to go pass that next girl,'" she said.
     She reassured herself and urged herself forward, thinking: "This is great but we need to do more, I know we can do more. Plummer you're not hurting, don't worry about it."
     The self-talk strategy worked. Plummer gave a superb performance and made herself proud.
     "My legs hurt like no other and my breathing was really hard, but at the same time, all of that meant nothing because … I just passed that girl in the last 100 meters with a kick nobody expected, including myself; and so all this pain was blanketed … with this sense of pride that I just took fourth overall and I just gave that race my all," she said. "I just proved to everybody that I deserve to be back on varsity."
     Royer, Davis and Plummer made use of lessons they had learned from struggling to run races they were proud of. For other Sabercats, this race was the struggle that will make the next race a triumph.
     Freshman Rylan Frueh was one of them. He was recovering from a bout of illness when he raced, and he hadn't hydrated or eaten well. He undermined himself by thinking about how bad he felt.
     "I was doubting myself so much on the line and in warm-ups, and I killed myself from that," he said.
     When the race started, he tried to be strong, but then he spiraled.
     "I just started noticing everything that was going wrong," he said. Runners passed him. "All that built up until I couldn't really keep moving very good … [it] kept on getting worse," he said. "I was able to finish, it was really a struggle."
     After he crossed the line, Frueh was "disappointed."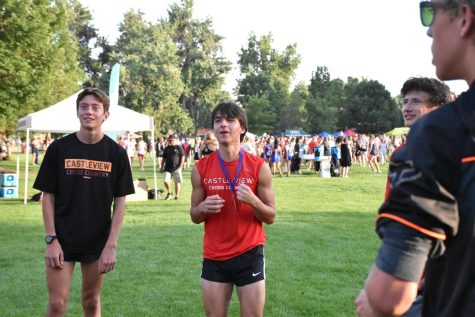 "[I was] totally out of it because my brain couldn't process exactly what just happened," Frueh said, "knowing I could've done better if I didn't [bring] myself down like that."
     The coaches told Frueh that his illness likely slowed him down by two minutes. His negative mindset likely slowed him down by five.
     "I went home over the weekend and thought about it a little bit," Frueh said.
     He learned that to succeed, he has to prepare properly and race with confidence. He changed his approach for the workout at practice the following Monday and it worked.
     "I had a positive mindset. I drank water, I took the right precautions before it and that's how I did so good on the workout. I felt amazing," Frueh said. "Of course it hurt a bit, but I was like, let's keep on going, let's do this, I know I can. I just kept the negative thoughts out of my head."
     Like Frueh, senior Kellen Scott did not run the race he had wanted to that day. He got stuck towards the back at the start, and while two of his teammates "made a big move" to advance forward, Scott did not.
     "I think it was the heat, and I was really caught in my head, and I felt really tired," Scott said. "I was thinking about how it's super hot and I just  don't want to race, I don't want to compete right now, I just want to drop out, but I also had thoughts like I can't drop out… this is what I do."
     In the last kilometer of the race, teammate Matthew Higgs encouraged Scott to "keep going." Helped by Higgs's words, Scott rallied and pushed through his pain to the finish.
     After the race, Scott was disappointed — but only briefly.
     "For [twenty minutes] I was really disappointed. I just didn't really want to talk. I just sat down, just thought about it. Jenner came up to me. I love Jenner.  He talked to me and he really motivated me. He was talking about how you shouldn't be sad about this, that you should be really motivated, and I think that really helped me out. And then the rest of the night I was really happy," Scott said.
     Scott is as accomplished a runner as any on the team. He is a four-year veteran, team captain and on varsity he ran at last year's state meet. His experience has taught him not to get hung up on his bad days.
     "I'm not totally upset with [the race]," he said. "What can you expect? You're gonna have bad days for racing, you're gonna have amazing days, so all you can do is look forward to the next race."
     After the last race was run, the boys' team, joined by some girls, played a game of hacky sack on the grass. When it was time, the team walked across the park for the awards ceremony. While Plummer, Royer and Davis had placed in the top ten in their races, Castle View did not earn any team trophies. After the ceremony, as the sun set on the grassy park, the coaches gathered the whole team together, speaking loudly to be heard over music in the background.
     Whether you had a good day or a bad day, Coach Marshall told the team, reflect on your race, and on Monday, we go back to work.
     Lyons said they had a good showing today, pointing out that Castle View had beaten teams it had been behind at Wash Park. 
     He urged others to take pride in being a Sabercat. We are a family.
Leave a Comment