Running for Each Other
As season starts, cross-country captains focus on unity
     Five foldable chairs are arranged on the concrete in front of the equipment shed at the Castle View track. Draped over the chairs are scarlet singlets with white trim, arranged by size. Today, Castle View's cross-country runners receive their uniforms.
Practice today is easy: two stints of easy running with a mobility drill in between. While the athletes bend and stretch to get over hurdles, the coaches call them over one at a time to get their shorts and racing singlet. Runners hold their singlets up or try them on to make sure they fit. The singlets are Sabercat colors; at practice, runners can wear whatever they please. But when they race, they wear scarlet.
     Since last season, Castle View's runners, trained by head-coach duo Colin Lyons and Brian Marshall, have been winning. 
     "Last season was a breakthrough for our groups, boys and girls," Marshall said.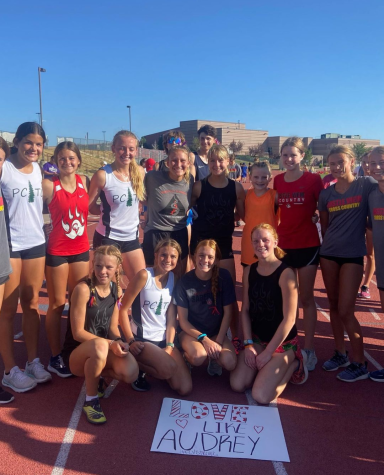 On the girls' side, CV's "school record book got rewritten," with the girls making state for the first time in nine years. On the guys' side, young athletes stepped up to form a team that "snuck into the state meet." That was last fall. This August, Castle View runners raced Douglas County in the CV/DC Duel, an annual tradition. CV's girls beat DC for just the second time in five years.
     "We put five runners in before their third," Marshall said. 
     Now, the 2022 season has arrived. The first official meet is Saturday, Aug. 27, at Washington Park in Denver. The team is strong. Its captains—T.J. Frueh, Kellen Scott, Mari Boekes and Brenna Wendell—are four-year veterans. Coaches Marshall and Lyons have entrusted these four with the leadership of 50 athletes this season, and they are taking up the challenge. They hope to make this season of CVXC the best ever.
     Both of the teams aim to make state. 
     "For the guys, we really want to strike definitely to be top five at state, possibly winning state," Scott said. 
     Boekes said the girls' team's target is top eight, while Wendell said top ten. In a sport in which only the top five finishers are scored, the leaders' strategy to get there might seem counterintuitive: every runner counts.
     This year, the team is striving for depth. A "deep" team has competitive runners in all divisions: varsity, junior varsity and open. While only the varsity squad goes to regionals and state, JV and open are no less of a priority. 
     "We want to show off our depth at meets this year," adding that depth is an attribute "a lot of the best schools in the state…pride themselves on," Coach Marshall said.
     "We don't really want a divider of ranks, like varsity, junior varsity, and open, we wanna all just be one. We go on runs together, so kids [don't think] varsity's the only thing important. The last runner has as much importance as the first runner," Scott said.
     Frueh said that the slowest runner on the team is "just as valuable … he can provide just as much to the team as the other people."
     This is the heart of it. Underpinning the team's competitive aspirations is a more fundamental goal: unity. The captains believe that the key to success is running for each other. 
     On the girls' side, Boekes said her goal is to "get more close-knit as a girls team." One of her priorities as a leader is "making sure all the girls on the team…feel like they have a place on this team, and [that it is not] just for the people who run a certain time, that it's for everyone, and then also making it a really loving and supporting environment for everyone here." She wants the girls "running for each other and knowing why each person is out there to run … when your race is helping that person, it's also helping you because you're running for them too."
     "I want it to be [that] everybody is shooting for the same thing as a team," Frueh said.
     The coaches share this aim.
     "We want to make sure every single kid on the team knows the goals of every single teammate and is invested in helping everybody else achieve those goals," Coach Marshall said.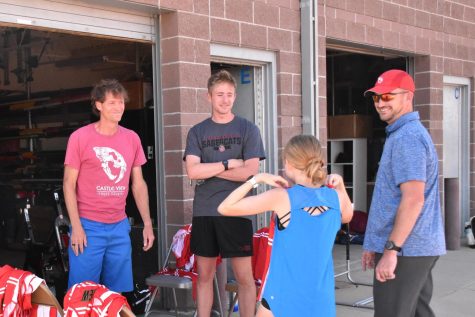 All four captains mentioned their teammates as one of the primary reasons they run.
     "I feel like suffering with the guys around you every single day, and just going through that together every day, really brings you closer," Frueh said.
     "I really love practice, I love seeing all my boys, my friends … I just get along with everyone there. I think it's just great," Scott said.
     "Being with the team is such a great environment," Wendell said.
     "I love the team so much. They truly have made a huge difference [in] my life, the girls' and the guys' team. The relationships I built with them are relationships that I think I'm gonna have for the rest of my life," Boekes said.
     TJ Frueh summed it up when asked what his most memorable experience with cross-country has been. For context, Jayden Royer is a '22 grad who competed last year, and a team's performance at regionals determines whether they will move on to state.
     "Throughout every year I've ever ran, you always run for yourself. You run to do as well as you can and get a PR and improve … But then junior year at regionals for cross country, something clicked … where I realized I'm running for so much more than myself. I'm running for everyone around me. If I don't race good in this race, then this is Jayden's last race and his running career at Castle View is over. There was just so much behind running together, and running for the guys you woke up with at seven in the morning, every morning, over the summer. It's just so much more powerful to run together—you run for each other rather than running for yourself," Frueh said. "I just remember finishing this race and thinking I've never had that much drive to keep pushing through it. I was so sick [during] that race, too. Regionals came and I was super sick. I could barely talk, I had no voice, I could barely breathe. But it didn't matter because I was running for my boys."
Leave a Comment