Power Through Cheer
Annabelle Tibaldo continues her 8th year of cheer and is powering through it.
As Annabelle Tibaldo continues with her eighth year of cheer, her main goal is just simply trying to power through it. Despite being in competitive dance and varsity cheer, Tibaldo is trying hard to keep up her grades in order to play. Despite being new to her position and having another sport to focus on, she is still on varsity. 
"I make sure my grades are up so I can participate and I'm healthy so practice is easier," Tibaldo said.
Cheer has helped Tibaldo get more in shape and helps her do her competitive dance. While focusing on this she also has to focus on school.
"I'm a base because I got too muscular to be a flyer," Tibaldo said, "I'm in competitive dance."
Despite the difficulties within JV and varsity now being intermingled, Tibaldo thinks the team has its own difficulties. 
"It's ok. One thing is when someone on the team doesn't like somebody else you can tell," Tibaldo said.
The cheer team has helped teach and train Tibaldo in many ways. One of these ways is through expecting anything.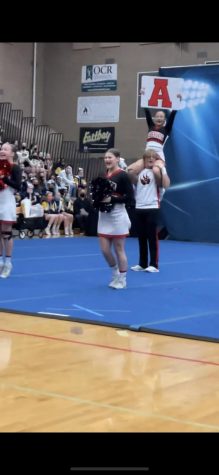 Leave a Comment