The Stomp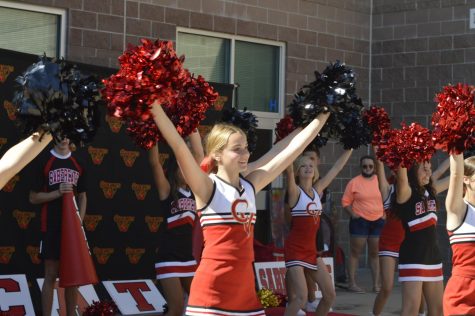 Sabercat Stomp is an event where kids from local elementary schools that feed into Castle View High School come and get a feeling of what high school is like. The athletic director, Mr. Derek Cordes provides a description of what goes on.
    "The way we look at it as a way to celebrate our community, our elementary schools, middle schools, and our feeder schools so they can get a feel of Castle View and homecoming," Cordes said.
    Cordes thinks this event is also a great way to get involved, especially for the kids coming into the school system soon or as a freshman. He believes this is a way of giving back to the community.
    "Saturday [Sept. 25] is about our students giving back to our feeder community, other students, elementary students. And obviously during the week all the fun events, all the sporting home games, Showdown, and the dance. That's all for our current students; our homecoming, obviously with our football game, and the dance is for alumni as well," Cordes said.  
     Along with giving back to our school, giving back to those around the community, Stomp is also including our student-athletes. Clubs and other after-school activities are included in Stomp as well. 
     "The goal is for every athletic program and activity program to host an event kind of like a carnival atmosphere for the young kids that are going to be Sabercats one day from our elementary schools and middle schools," Cordes said. 
    This event is to make the soon-to-be Sabercats feel involved and welcome to Castle View. This is also their chance to see what their future will be like right here at Castle View.
     "They just kind of see Castle View and meet current Castle View students. There are a lot of games and activities. It's really just a fun event. There are silent auctions for a chance to raise money and fundraise for our school. But, more importantly, it's really just for these young families that will one day be members of Sabercat Nation, to be a part of it and see it," Cordes said.
Leave a Comment