Proposal for the Polls
Students in the environmental club CVG2 discuss the importance of voting and the impacts of Proposition 114
Seniors Owen Topolnicki and Caleb Dissel think voting and understanding what you're voting for is vital for all who are able to cast their own ballot. If you're unfamiliar, propositions are all of the possible laws to come to Colorado. Maybe one of the most publicized is Proposition 115, which deals with late term abortion. But, Proposition 114 is environmental, it's the possible reintroduction of Gray Wolves into Colorado. 
The cost of the reintroduction of the wolves would be wasted on this project when there are many other institutions, like schools, in Colorado that could use the money. 
"Proposition 114 would require about $500,000 – $800,000 to reintroduce Gray Wolves into Colorado; that is money that I believe can be used elsewhere, especially in schools," Topolnicki said. 
If passed, there will be an impact on other wildlife and ranches. 
"The elk and deer yields that I'd been told were sick are also not as large as I believed, the deer population is actually too low… Cows produce less milk when they're stressed, and even if they're totally safe, even hearing the wolves reduces yield for ranchers," Dissel said. 
Dissel and Topolnicki urged all voters to research what they're voting on instead of just reading the title and making a decision because it could make a big difference.
"I do believe it will pass, for I believe many Coloradans are ignorant on the subject and vote with their heart instead of their heads. So, when they hear about wolves coming to Colorado they think it's a good idea and vote 'yes' without a second thought," Topolnicki said. 
When voting on Proposition 114, one of the major factors is the financial loss that will occur. 
"The money to reintroduce wolves in Colorado has to come from somewhere, and that may very well come from your pocket or from my bank account when I purchase a big game license," Topolnicki said. 
When voting, think about what you're writing on the ballot and think about Colorado, and the country in its entirety. 
"Consider what really goes into preserving the ecosystems that they know and love, especially in the Mountains. Vote, definitely vote, but think outside of yourself for issues like Proposition114," Dissel said.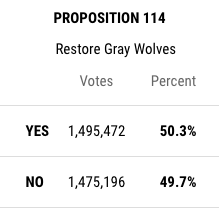 Leave a Comment