Pinning and Winning
Junior Ian Crabtree placed fourth in 5A wrestling Regionals and is now going to state
Junior Ian Crabtree, has placed in regionals and is now heading to state. Out of a sixteen-man bracket he placed fourth.
"I've worked hard and always show up to practice, do a lot extra in the off-season, and I push myself hard," Crabtree said.
Crabtree has worked a lot at practice which is two and a half to three hours. He has also had a lot of support from his family and coaches and himself. He pushes himself to get better and better every day
"I motivated myself to go to state because I always try to go farther than everyone else.  My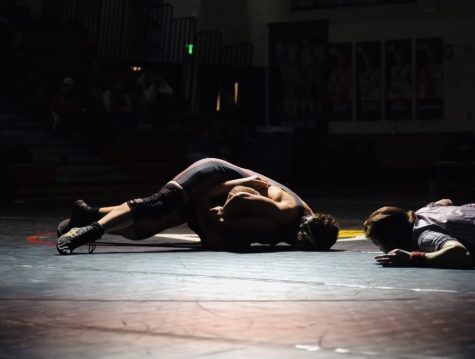 motivation is from me wanting to be better than others," Crabtree said.
Crabtree has been wrestling for five years. He has wrestled for two years in high school and this is his third year wrestling in high school and his first time making state.
"I've wrestled two seasons in middle school but wasn't serious about the sport then once high school started I got into wrestling.  I've wrestled about five years, three of those years being when I actually fell for the sport," Crabtree said.
Crabtree will be competing against  20 other kids from different schools. Ian has come a long way from not placing at regionals to going to state and there are a lot of emotions for him. No matter what though he made state and that's a huge accomplishment.
"I'm excited to go to state.  There will be good competition and a lot of new learning opportunities I can use for next year.  I don't expect to win state but I expect to wrestle and perform well still," Crabtree said.
Crabtree is striving for victory to prove to himself and others that he is the best and wants to be the best at state.
Leave a Comment