Dutch Bros or Starbucks?
Do students at Castle View prefer Dutch Bros or Starbucks more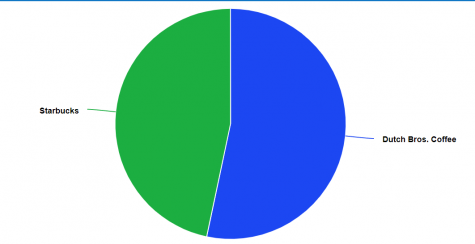 The students at Castle View High School took a poll of whether they like Starbucks or Dutch bros more. Dutch bros won, but with just two more votes. Which place will growing Castle Rock get their coffee more from in the future. Where people get their coffee is a pretty even vote.
     "Dutch Bros is just better all the way around, they are cheaper and have a higher quality of coffee," said senior Natalie Martinez.
 Although dutch bros does have cheaper prices some people like junior Skylar Van DeWert would argue that the quality isn't as good. 
     "[I like] Starbucks because Dutch is too sweet and makes me feel half sick sometimes," said Van DeWert. 
While Starbucks has been open longer than Dutch bros. Starbucks opened in 1971 in Washington state, while Dutch bros opened in 1992 in Oregon. Out of a poll on Instagram people voted for Dutch bros because it has recently become popular in Castle Rock where the students live. Not only is it another option from Starbucks but It is quickly growing into a new favorite. Some people like junior Kendall Phillips only like Dutch bros and won't drink Starbucks at all. 
     "Dutchbros because the prices are better and the coffee isn't burnt," said Phillips. 
Maybe some of this can be marked up as just one bad experience, but more people are choosing Dutch bros. Perhaps it is because it is a newer option here, but depending on the polls, it is taking over Starbucks as the teenager coffee go-to. As well as turning into Castle Rocks' new favorite.
Leave a Comment