The High School Diet
Top places to eat ranging from fast food to sushi according to students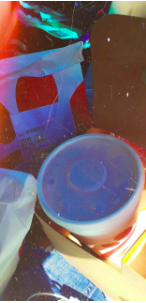 Senior Melanie Sanstra gives her top ten favorite restaurants and what she likes to order at them. 
Snooze: "They have amazing breakfast food. The breakfast tacos are my favorite. It's a good environment and their food is so fresh."

Torchy's Tacos: "I love the fried avocado tacos. They sound gross but they are so good. The tacos come with really good sauce."

Cheddars: "They serve a little of everything, but I recommend the chicken strips. They are literally the best ever and their honey mustard is top tier."

Mad Greens: "They have salads, wraps and grain bowls. I recommend the Southwest grain bowl. Their food is really fresh and they have a ton of options of healthy food."

Chick-Fil-A: "They have chicken and salads. I always get chicken nuggets and fries. You can't go wrong with Chick-Fil-A."

Hapa Sushi: "I love all of their rolls. It's pretty expensive, but it's so worth splurging sometimes."

The Great Divide: "They have mostly bar foods. I had the fish tacos and they were the best. It has a good environment and tons of good food options."

Angies: "I love their spaghetti and bread. It's a local business and I've been going for as long as I can remember."

Wing Stop: "I recommend everything: you really can't go wrong. They have the best fries ever."

Cheesecake Factory: "They have literally everything you could want. I usually get a bunch of appetizers with my friends. They have literally every option ever and cheesecake; if you want it they probably have it."
     Senior Evann Delgado has her own list of favorites based on places she has been and says anything you get from these restaurants is going to be good. 
     "To be honest I haven't gone to all the restaurants in Castle Rock but I've gone to restaurants in other cities that were really good and I'd have to say my favorite is Cuba Cuba," Delgado said. "I don't have an exact order. My orders just depend on my mood or what I'm feeling that day. Anything from these restaurants are good." 
     Here are Delgado's top ten favorite places to eat.
Cuba Cuba- Cuban food

Chick-fil-a- fast food/chicken sandwiches

Freddy's- fast food/burgers

Culver's- fast food/burgers

Potbelly Sandwich Shop- sandwiches

Dairy queen- fast food/ice cream

Waffle House- breakfast/diner

Mcdonalds- fast food/burgers

Red Robin- burgers

Zaika- Indian food
Leave a Comment