Dancing from a Distance
Poms continues to practice despite challenges due to new COVID-19 rules and regulations.
Due to COVID-19, there are lots of new rules and regulations athletes must follow to continue practicing and performing. The varsity poms team is one of the many sports still practicing amid the virus. Here are a few rules dancers have to follow during this year's season.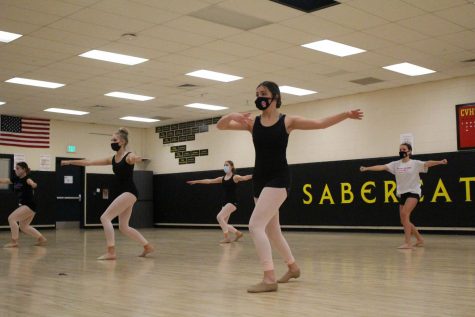 Dancers have to wear masks on and off the floor, even during practice. 
"For Poms, performance is a huge aspect to our sport. We must smile, project and entertain crowds and our judges at competitions. Due to the masks, that makes our job much harder," Varsity coach Alexis Godfrey said.
Choreography may have to be changed to promote social distancing
"Our girls are handling the COVID-19 changes like champs! If anything, the changes and challenges we have faced as a program through this are pushing our athletes to keep going. Their determination is at an all time high," Godfrey said.
Community outreach may look different than before.
"In our program, community service is a huge part of who we are. Because of the restrictions our community is facing, we have decided to get creative and form COVID-19 friendly community service opportunities; Hopefully allowing us to not miss out on giving back," Godfrey said
Social distancing and screenings before practices and performances are mandatory.
 "Our athletes check in with one another every single day just to see how they are doing. The energy in the dance room when we're all together is contagious," Godfrey said. 
Nevertheless, the athletes continue to show their sabercat pride while staying within CHSAA guidelines.
"I have seen unbreakable bonds form and strong teamwork day in and day out. I have seen our girls grow as individuals and in turn, that has formed this incredible atmosphere when we are together," Godfrey said. Our athletes live and breathe for everything Castle View, and are beaming with Sabercat Pride."