Mr. Sabercat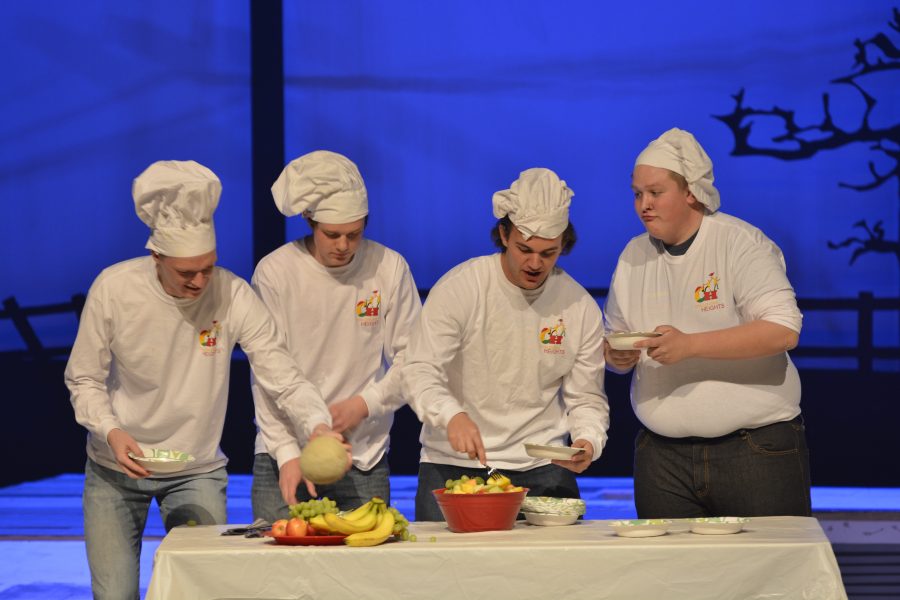 CV Student Media –
MACKENZIE BOLTZ and ELEXA SCARBROUGH –  
Castle View's 2nd annual Mr. Sabercat competition took place in the third week of February. It started with four contestants but ended with only two winners, Mr. M.A.D. Week and Mr. Sabercat.
"We didn't really have a lot of time to rehearse whatsoever except for an hour before the performance just because of all of the crazy things going on with Sadie's and the four day weekend and the snow day etc. That's why our Fruit Salad group performance was a little rough."
The pageant consisted of four events: formal wear, group performance, talent, and questioning. What stood out to the audience was the group performance. Philp Dalke '16, Austin Cyrus '16, Josh Hermanstorfer '18, and Jacob Wolfe '16, took on the roles of The Wiggles, a popular childrens TV show in the 90's, and performed their well-known song Fruit Salad.
"The group performance was the best event of the night because it brought back many childhood memories. That was one of my favorite TV shows I watched as a kid," said Jessica Laudick '16.
The contestants felt a little different about it.
"The performance did not go as planned, I would say. But, listening to The Wiggles while eating fruit salad was still an achievement," said Austin Cyrus '16.
In order to determine what to do for the group performance, the contestants gathered for a meeting during advisement. According to Jacob Wolfe '16  Cyrus and himself started singing Fruit Salad and discussed that it was "the greatest video" and they had to remake it at some point in their lives. So they figured, why not now? That's exactly what they did.  
Wolfe '16 said "I loved watching The Wiggles. My favorite was the blue wiggle, Anthony. I even had a Wiggles towel!"
After the group performance, the talent portion was next. Austin Cyrus '16 performed Holding Out for a Hero by Bonnie Tyler, which appeared in the movie Shrek as well as Footloose. Dalke '16 performed Mary Had A Little Lamb on the recorder. Hermanstorfer '18 lip sync along to a rap song. One of the more popular talents was Jacob Wolfe '16, who performed a scene from The Dead Poets Society. He even got audience participation. At the end of his monologue, members of the audience stood up at various times and said "O Captain! My Captain!"
At the end of the pageant, it came down to who raised the most money and who won the judges over.
Raising the most money of the four contestants was Josh Hermanstorfer '18. Josh took the crown for Mr. M.A.D. Week,  while Jacob Wolfe '16 won the overall competition.
"It was actually surprising to me with the competition I had. Those guys are professional, skilled, entertainers," Wolfe '16 said about winning Mr. Sabercat.
"I love to be a part of Mr. Sabercat because it makes me uncomfortable and awkward but that's totally awesome because not a lot of things do so it's a cool experience. I like to make people laugh, or at least try to, and this is a great opportunity to do just that while also raising money for charity"